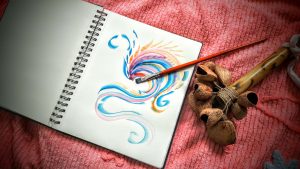 Processing out of a Point – meditative painting out of a Point
with Shaman Katharina Schleifer
Throug the music of a shaman we get into a meditative attitude. As creation started out of a point we get into a creative flow. Now images of our inner can be born with different materials.
Paper and colours are provided but it is possible to bring your own materials.
Wir versenken uns über die Musik einer Schamanin in eine meditative Haltung und lassen uns aus dem Inneren heraus vom kreativen Fluß leiten. Mit verschiedenen Materialien können dann Bilder aus unserem Inneren entstehen.
https://www.facebook.com/VAVACulturalSpace
Registration fee: Eur 18,-
Please register at:
Katharina Schleifer (Greifenspiel e.U.)
0676/88 0 88 512
katharina.schleifer@greifenspiel.at
www.facebook.com/Greifenspiel
www.greifenspiel.at
Minimum of participants: 2