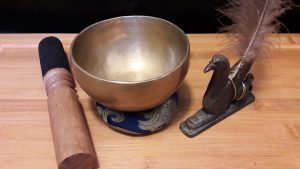 Der Klang geht durch uns hindurch und wird in die Welt hinausgetragen, während der Traum auf den Wellen des Klangs reitet. Der Traum ist hier nicht der uns bekannte Traum, den wir während unseres Schlafes haben, sondern eine Art magisches Fluidum, den ich als zusätzliches Werkzeug verwenden kann. Mit seiner Hilfe können wir ein wenig aus unserer Alltagswirklichkeit aussteigen und uns in einem anderen Zusammenhang erleben.
Wer ein Yoga-Kissen und/oder Matte hat, nach Möglichkeit bitte mitbringen! Eventuell ist auch eine Decke hilfreich.
Sound goes through us out into the world while the Dream is riding onto the waves od sound. The Dream is not the dream we know, which we have during the night, but it is some kind of magical fluidum, which I can use as a tool. With this tool we can step out of our every day life and experience us in another relation to the world.
If possible bring a yoga-pillow or mat! Eventually a blanket could be helpful.

https://www.facebook.com/VAVACulturalSpace
Registration:
katharina.schleifer@greifenspiel.at or
+43 (0) 676 88 0 88 512
www.facebook.com/Greifenspiel
www.greifenspiel.at
Registration Fee: Euro 18,-
Event takes place with at least 2 participants